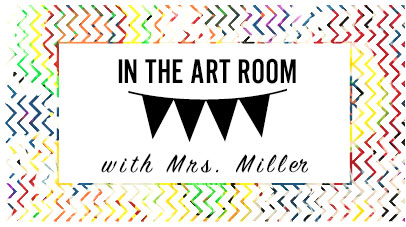 2nd grade Origami Houses

Posted by

Carrie Miller

on

10/16/2018 9:50:00 PM

Today 2nd grade practiced folding a piece of origami paper into a house! They rocked it! BUT, to get better we need to practice. If your student wishes to practice here is the video we watched in class 😊

Enjoy and remember to use a square piece of paper!

Mrs. Miller

Welcome Back Artists!

Posted by

Carrie Miller

on

8/19/2018 9:00:00 PM

Hey Friends!

Can't wait to see you all back in the Art Room very soon! While I have been enjoying seeing it so clean and neat and tidy we all know it won't last too long! And that's ok! We can't do our best work without some mess sometimes!

Some changes to the room happened over the summer to make more room for my artists to spread out and have other places to work and think!

We will start this year by preparing to celebrate for Dot Day on September 15-ish. Peter Reynolds wrote and illustrated a book named "The Dot" that follows a young student named Vashti from a struggling artist to a very prolific young artist after she takes some advice from her art teacher to make a mark and see where it takes her. Students from all classes will make their mark and celebrate where our first marks take us while exploring art room materials and new techniques!

IN THE ART ROOM: Here's What's Been Happening!

Posted by

Carrie Miller

on

11/18/2017 7:00:00 AM

So glad you're here! What's been happening in the Art Room this term? Read from the mini blurbs below for each grade level.


Tilden Art Class is on Instagram!

Follow us @tildenartclass for weekly postings of the amazing work your students are creating everday!

Parent Teacher Conferences are Monday and Tuesday November 20th and 21st!
Be sure to come visit me in the Art Room and take a look at our Aquarium display in the 5th grade hallway!

Kindergarten students have been exploring line, shape and the primary colors. We just completed a variety of projects concentrating on line and finished two different castle drawings that focused on a variety of shapes. No castle would be complete without a fire breathing dragon, so we will be creating dragon skin with paint and bubble wrap and cutting out shapes from construction paper to make our Shape Dragons! We looked at the work of Piet Mondrian and Wassily Kandinsky this term.

First graders have been learning about warm and cool colors and contributed warm/cool fish to the aquarium display. To help Mrs. Miller learn all first grader names students created name art with oil pastel and watercolor in the style of Jasper Johns. Check them out @tildenartcenter to see some lovely finished pieces. Currently we have been talking about architecture, architects, and the colorful shack artworks by Beverly Buchanan. We painted a variety of craft sticks, large and small, with bright colors to be used to construct a house of their own design.

Second graders have been working with oil pastel and chalk pastels with both of their most recent projects. First we looked at the artwork of Sandra Silberzweig and each student drew a stylized fish with black oil pastel on black paper. Then, we used fluorescent chalk pastels to color them in. We have just finished up a series of Cave Art drawings after we observed the cave art found in 1940 in Lascaux, France by a group of teenagers. Students learned how to mix the primary colors together to make different types of browns and used chalk pastels over paint to create their own cave art! We wrinkled large sheets of paper to mimic the bumpy walls of inside the caves.

Third graders began the year by learning about tints and shades. Students painted with either red or blue and created a value painting that served as the background for a drawing of a bloom of jellyfish. White oil pastels was used to draw their jellyfish and chalk pastels was added to color in the main parts of the jellyfish. To finish off the piece, black oil pastel was used to draw in seaweed. James Rizzi and his whimsical drawings of buildings and birds were next up and students created their own whimsical Rizzi building and bird artworks.

Fourth graders were read the book "Only One You" by Linda Kranz and looked at how she used rocks to create a whole school or brightly colored fish. Students were given their own river rock to and sketch paper to create a fish design of their own. We agreed to keep the eye, head shape the same on all our fish but use the body of the fish to create a unique design. Students learned how to use acrylic paint and a range of brush sizes and types to paint their fish. The completed fish were the last addition to our aquarium display! We then began looking at skylines and drawing cityscapes to be printed onto a warm color sky with a reflection in cool color water. Students used a foam sheet to create a surface to ink and print.

Fifth graders spent a good amount of time drawing detailed fish on papers after looking at a variety of different fish shapes, sizes and colors. They then transferred their drawings to a piece of tooling foil and pressed in their designs with a pencil or wooden stylus. The metal was then painted to create a vintage metal look or colored with Sharpies for a colorful shiny look. Some students chose to do both! The fish were attached to a wire that was then attached to a rock to stand up in the aquarium display case. After our fish project students were introduced to the work of Roy Lichtenstein and the Pop art movement. We learned about Ben-Day dots and how Pop artists like Lichtenstein wished to bring commonplace art into the realm of high art. We are drawing ourselves as if we were in the comics finished with Ben-Day dots, line drawings and speech bubbles!